All Ener-Save windows meet or exceed North American standard requirements for air tightness, wind-load resistance, water penetration and forced-entry prevention.
Canadian Standards Association

The Canadian Standards Association (CSA) wants to assure you its safe. CSA is a membership-based non-profit organization that develops safety standards, provides product testing and certification services and disseminates information on a variety of topics. CSA also audits plants on a regular basis to ensure compliance. The CSA label appears on all Platinum Series Window Products with test result numbers.
Air Tightness (A)
The air tightness test measures the volume of air that would pass through a closed window at an air pressure differential that represents a wind speed of 40 kph (25 mph). Performance is indicated by a number rating from A1 to A3. The higher the number, the more airtight the product.
Water Tightness (B)
On windows the performance rating for water tightness is represented by the letter 'B'. Water tightness testing involves applying a uniform water spray at increasing air pressure (to simulate wind-driven rain) until water penetrates the window. Performance is indicated by a number ranging from B1 to B7 for windows, and from B1 to B4 for sliding doors. The higher the number, the more watertight the product.
Wind-Load Resistance (C)
For windows, the performance rating for wind-load resistance is represented by the letter 'C'. Resistance to wind-load is a measure of the product's structural strength and is tested by applying increasing levels of air pressure to simulate the wind force. Air pressure is applied until the product's operation is impaired. There are up to five levels of wind resistance for windows (C1 to C5) and three levels (C1 to C3) for sliding doors. The higher the number, the better the performance.
Forced-Entry Resistance (F)
The performance rating for forced-entry resistance is represented by the letter 'F'. The standards for windows include a test to indicate how well the product may thwart entry within five minutes. One of two ratings is assigned, F1 or F2. For windows, F1 means the product has a lock, while F2 indicates it has a lock and it passes hand and tool manipulation tests. This test is optional for windows that are installed higher than two meters from the ground. F2 represents the higher level of security.
Screen Strength/Ease of Operation (S/E)
For windows, the performance rating for screen strength is represented by the letter 'S'. Sliding doors are tested for ease of operation and the letter 'E' represents the performance rating. Insect screens are not intended to serve any purpose other than to keep insects out. They are tested for tear, damage or retention in windows when subjected to loads. A rating of S2 is stronger than S1.
Energy Star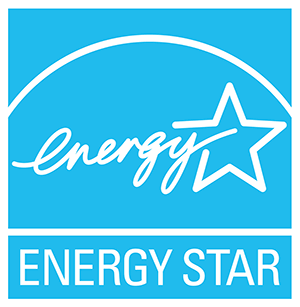 The International Energy Star symbol is a simple way for consumers to identify products that are among the most energy-efficient on the market. Only manufacturers and retailers whose products meet the Energy Star criteria can call their product Energy Star.
Understanding what the numbers mean
Energy Star Zone: The Area within North America that the window has been rated for testing.
U Factor: Measures how well a product prevents heat from escaping. The rate of heat loss is indicated in terms of the U factor (U Value) of a window assembly. U factor ratings generally fall between 0.20 and 1.20. The insulating value is indicated by The R – Value which is the inverse of the U – Value.
Solar Heat Gain Coefficient – (SHGC): Measures how well a product blocks heat caused by sunlight. The SHGC is the fraction of incident solar radiation admitted through a window, both directly transmitted and absorbed and subsequently released inward. SHGC is expressed as a number between 0 and 1. The lower a windows SHGC, the less solar heat is transmitted.
Energy Rating – (ER): An overall measure of the window's energy performance, the higher the number the better the performance.
National Fenestration Rating Council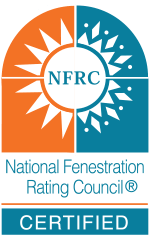 To address concerns about energy consumption, the fenestration industry developed a host of new energy efficient technologies: low-e coatings, low-conductance spacers, gas fills, etc. NFRC's sole mission is to establish a fair, accurate, and credible rating system for fenestration products and to coordinate certification and labeling activities to ensure their uniform application. NFRC's rating procedure is designed to meet the requirement of the Energy Policy Act of 1992 and certain federal government program requirements (DOE, FTC).
American Architectural Manufacturers Association

(AAMA) Since 1962 AAMA's ANSI has been the only accredited third-party window performance verification program that has provided manufacturers with the means to independently demonstrate product performance. The AAMA Certification Label on a product tells customers that a product sample has been verified as conforming to the requirements of AAMA's standards through independent laboratory testing and follow-up on-site inspection of the manufacturer's production line.
Window Wise™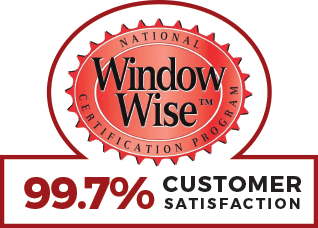 Window Wise™ is an independent company that audits and certifies window contractors and manufacturers to ensure that homeowners are getting quality products and that their windows are being installed correctly by conducting training seminars. Window Wise™ audits companies based on energy-efficient windows, dealers certification, installer certification, product and installation criteria, and warranty information.